Finchy here.  Chili Dawg is still not feeling well- I'll get to that later on in the post though.  Yesterday, Mom noticed that he was limping really badly on his left rear leg; barely using it at all.  She thought she could get him to perk up if she brought Barney out for us to finally "kill" him, specially since he has a squeaker in him, and Chili Dawg LOVES to squeak soft toys.  So, Mom brought him out, but this is all the interest Chili showed in him.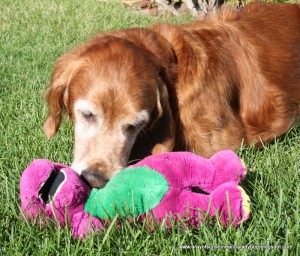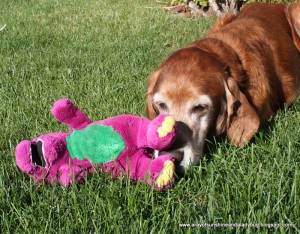 Mom knew this wasn't a good sign, and knew this meant that the Chili Dawg wasn't well.  She passed Barney onto me.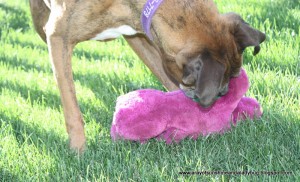 But it didn't seem right to destroy him, when something clearly was wrong with my brudder, so I walked away from him.  Chili Dawg and I snuggled together and watched the world go by later on.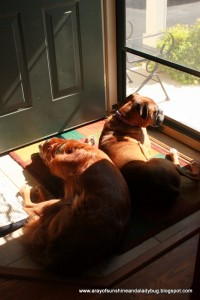 Mom and Dad talked a lot last night about what they thought was wrong with Chili.  Dad was hanging onto hope that Chili had just pulled a muscle wrestling with me or running in the back yard.  Mom was pretty sure the cancer was back, specially since Chili's appetite has decreased a bit.  Today Mom took Chili to the vet.  Dad offered to be the one to take him, but Mom insisted since he was her "soul dog".  When Mom got home from the vet, she was crying.  The Chili Dawg's cancer has returned, and it's in his hip now.  The veterinarian couldn't believe that Chili hasn't yelped in pain or cried out based on how large it was on the x-ray.  He sent Chili home with pain medicine to make him comfortable until he lets Mom and Dad know that it's time for him to cross the Rainbow Bridge.  Mom is devastated, she had hoped to have him for a little longer, but she said that we are going to focus on the now.  So Barney, we will let the pain meds kick in for a day, and then we will try to kill you one last time before we send you on to another deserving tripawd.