Chili Dawg here.  I'm not feeling so good, so Mom is going to type for me.  The pain pills make me kind of fuzzy and I have this cough going on now.  Yesterday, Mom gave us another go at Barney.  I did a little chewing on him, but I just wasn't in the mood.  I did enjoy the smells though-Abby, Gayle, Cooper, Catie, Codie Rae and all the other dogs that have hosted him.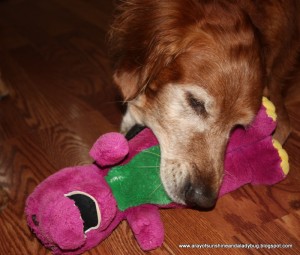 Mom could tell I wasn't in the mood to kill Barney, so then she got Finchy all riled up about Barney and let Finchy give Barney a good ol' whooping.  You can see the video on Mom's other blog.  I think Evelyn will be proud of him.  Mom let Finchy beat on him for a good 10-15 minutes.  She does have to sew a small part of him, you can see the white part on the picture above- Finchy got down to the stuffing.  Mom and I laid out in the grass yesterday and watched the clouds.  Grandma and Grandpa came down to visit too.
Thank you, Abby for sending me Barney.  Mom, Finchy and I have enjoyed having him here.  He brings with him, a source of strength for tripawd owners facing cancer.