I teach high school.  This year, we are really pushing these 3 concepts: Be Positive, Be Respectful, Be Involved.  So, I made signs to hang up in my classroom.  It was easy to find pictures for being respectful and being involved to go along with the statements, but when I got to "be positive", I hit a block.  My screen saver came on, and this picture of the Chili Dawg came on the screen.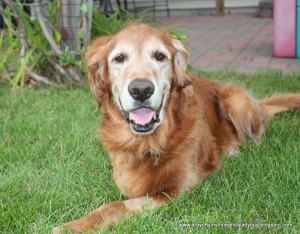 How could you not smile and be positive when you're looking at a picture of a smiling, three-legged golden retriever?  So, I put his picture on the sign and hung it up in my room.
A couple days into the first week, a student asked me, "How's 'Be Positive'?"  Me: "Huh?"  Student: "How's 'Be Positive'?"  Me: "Who is 'Be Positive'?"  Student: "That's your dog on the sign isn't it?"  Me: "Yes."  Student: "Isn't his name, 'Be Positive'?"  My co-teacher and I laughed pretty hard at that one, because honestly, who would name a dog, "Be Positive"?  In that period, it became a running joke that Chili Dawg's name was "Be Positive".
Well, this week is Homecoming Week, and today's dress up day was pajama day (one of my favorite days, because I get to participate).  So, I was wearing my pajama pants with golden retrievers all over them & my "I love my tripawd" t-shirt.  I walked into 7th period, and at least 8 kids yelled out, "Hey, 'Be Positive' is all over your jammies!"  Well, I hadn't told them that Chili Dawg's cancer had come back or that we had had to put him to sleep, because it was so early in the school year and we hadn't gotten to know each other that well, so I had to explain why I got a little teary eyed.
So, in the spirit of the Chili Dawg and my 7th period REI Chemistry class, "Be Positive".